We upgrade our assortment with a new improved and lighter Mixing valve. The mixing valve has integrated JG fittings and is suitable for water heating and heating systems.
The Alde Speedfit Thermostatic Mixing Valve (TMV) blends hot and cold water to ensure safe and comfortable water temperature, reducing the risk of accidental injuries and burns.
Utilising the Alde Speedfit connections makes the valve fast and easy to install and gives the option of quick demounting for service or replacement. Ultra-compact and lightweight, it is ideal for use in tight spaces. The valve complies with all applicable UK and European performance standards. The product is WRAS approved and holds TMV2 and TMV3 certificate.
The TMV can function at flow rates as low as 1 lpm, and is also resistant to the adherence of scale and other system contaminants to provide increased valve longevity.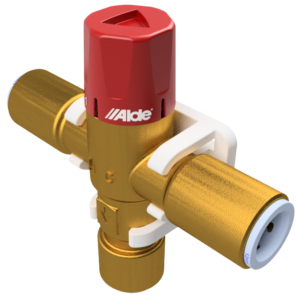 | | |
| --- | --- |
|  Body & fittings |  Lead  free DZR brass |
|  Spring |  Stainless steel |
|  Strainers |  Stainless steel |
|  Handles |  ABS plastic |
|  Body O-Ring |  Viton |
|  Piston |  High Performance Polymer |
|  Cover Cap |  ABS plastic |
Features and Benefits
The mixing valve has a thermostatic element that regulates the supply of cold as well as hot water. in order to achieve the desired temperature.
Anti-scald function. The valve has an anti-scald function that shuts off the incoming hot water flow in case of failure of cold water supply.
12 mm Speedfit connections (push-fit) mean fast and easy installation and easy demountability.
The 15mm valves work with flows as low as 1 l/ min making it ideal for water saving taps.
Compact design makes it easy to install on pedestal or wall hung basins. Installation clip included.
2-in-1 options include check valves as well as strainers that protect both the check valves and the main valve.
WRAS approved Protective cap – prevents unintentional changes of the temperature setting
WRAS (Water Regulations Advisory Scheme) approved
NSF61 Compliant
Compliant with BSEN1111, ASSE 1070, TMV2, TMV3
TMV3
 Factory temperature setting
 106 °F (41°C)
 Working temperature range
100 – 114 °F (38 – 46 °C)
 Maximum adjustable temperature range
86 – 118 °F (30 – 48 °C)
 Temperature hot supply
131 – 149 °F (55 – 65 °C)
max. 185 °F (85 °C)
 Temperature cold supply
41 – 77 °F (5 – 25 °C)
 Minimum hot to mix differential temperature
50 °F (10 °C)
 Temperature stability
+/- 4 °F (2 °C)
 Maximum static pressure
145 psi (10,0 bar)
 Maximum working pressure
72,5 psi (5,0 bar)
 Minimum working pressure
 2,9 psi (0,2 bar)
 Maximum pressure inlet differential
 10:01
 Minimum flow rate 15 mm
 0.26 US gal/min (1 L/min)
For questions regarding these or any other changes, please contact your retailer, Sales representative or our Technical service and Support. For service, Warranty and Aftermarket support, please contact our Technical Service & Support.
With best regards,
Alde